At this time of year the topic of Internships can be high on your agenda as a student.
There's no doubt it can be extremely useful to get an internship. Many major graduate recruiters use summer internships as a two to three month interview, and more and more interns are being offered jobs which start after graduation. This can ease your stress levels in final year! If this appeals to you then our Internship Hub is obviously the first place to look, but there are other sources of great summer opportunities including Glasgow Careers.
I and my colleagues are constantly trying to make sure you're aware of all the opportunities on offer, but sometimes the whole issue of internships can become awkward at best and annoyingly frustrating at worst.
This can be because internships don't always fit neatly into your course structure. Search Glasgow Careers and you'll find lots of year-long interships. These might be OK if your course is designed to incorporate such internships, such as MSci Chemistry or Statistics with Work Placement and some Life Science options, but the majority of our courses aren't structured in this way. Does this mean you can't go for that brilliant 12 month Technical Student Programme at CERN?
Well…. It depends. If your course doesn't officially include an optional or compulsory 12 month placement, then you can speak to your adviser of studies and/or academic staff and ask for their advice on taking a year out, or a "suspension of studies".
Sometimes taking a year out can be difficult or impossible. Potential course changes while you're away might preclude articulation to your delayed final year. Even if your academic staff say that you can leave your course for a year, it would mean that your peers would graduate a year earlier than you, and you would join a new year group on your return to your course. That might be enough to put you off the whole idea – then again perhaps not!
However, rather than right off a potentially fantastic 12 month opportunity, why not talk it over with an impartial Careers Manager, and then approach academic staff – you've nothing to lose.
Summer internships are simple though – surely? In addition to reasons I covered previously, for some of you a summer internship isn't ideal because of the way your course is organised. If you're in the final year of an MEng for example, then your final year internship, which incorporates project work, might have to take place from June to December. In this position, a summer internship would be impossible. That's just one other reason to look at internships and career planning in general, early in your course.
One final thought…
The Careers Service, and our Internship Hub, firmly believe that you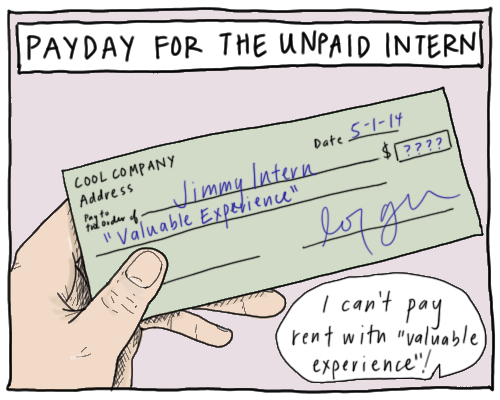 should be paid for working, and all of our internships are paid, unless they are part-time roles with Registered Charities.
Thankfully we're not the only ones who think this way, and HMRC are now suing companies who take advantage of your desire to gain experience! You deserve to be paid for the skills and qualities you've worked hard to develop at UofG.
You're worth it!